It's hard to imagine this beautiful, modern kitchen as a dark, oaky room from the 80s… This kitchen in Carmel shows exactly why renovations are necessary and add serious value. They keep your home up-to-date, keep you enjoying your home and increase your home's marketability.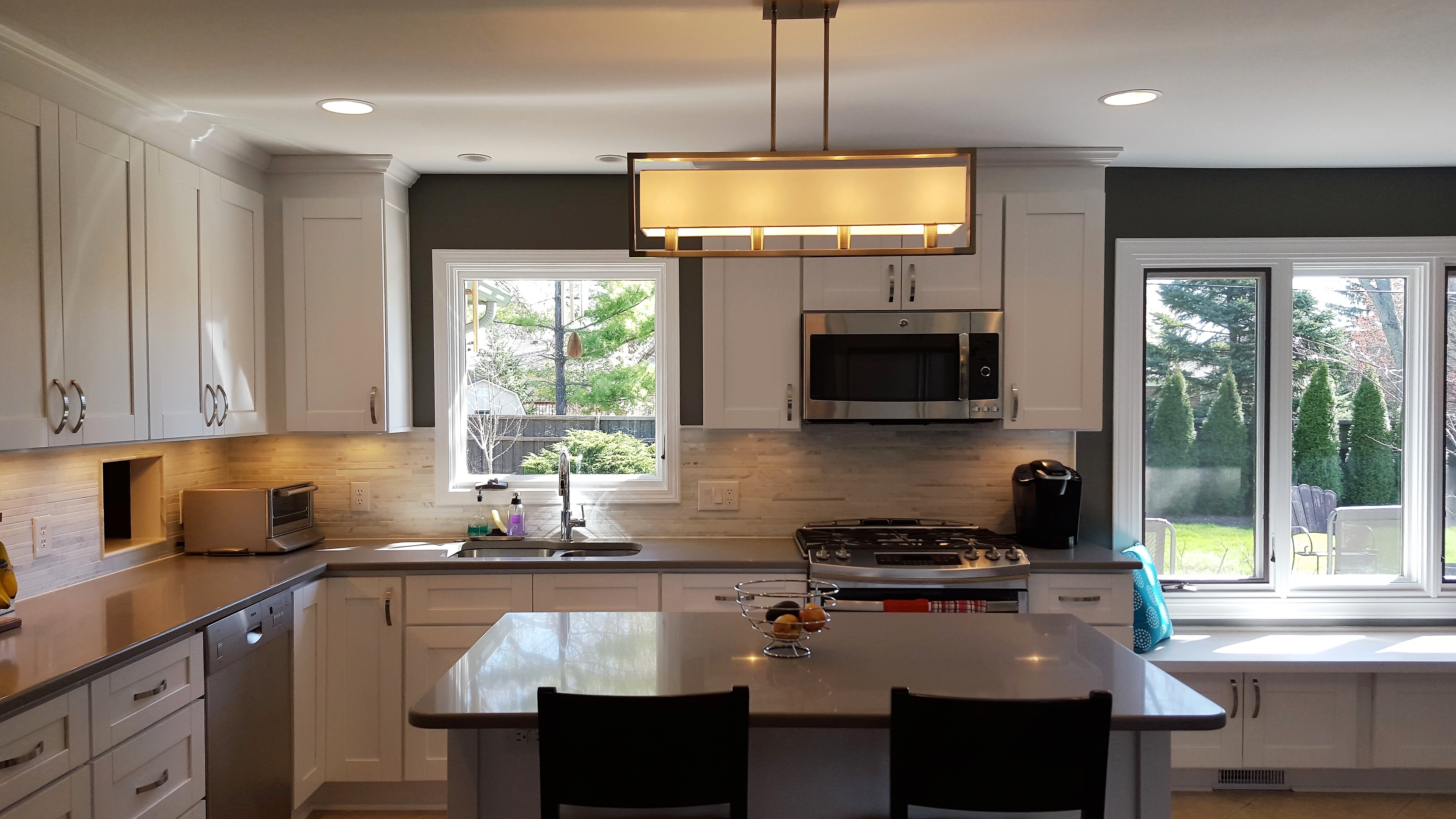 White kitchens are all the rage right now, but they are also timeless. This new kitchen has beautiful gray quartz countertops to add contrast to the white cabinets. Quartz is very popular for kitchen counters right now and is a great alternative to granite, offering a more polished, uniform look. An eye-catching island chandelier adds tons of style and personality.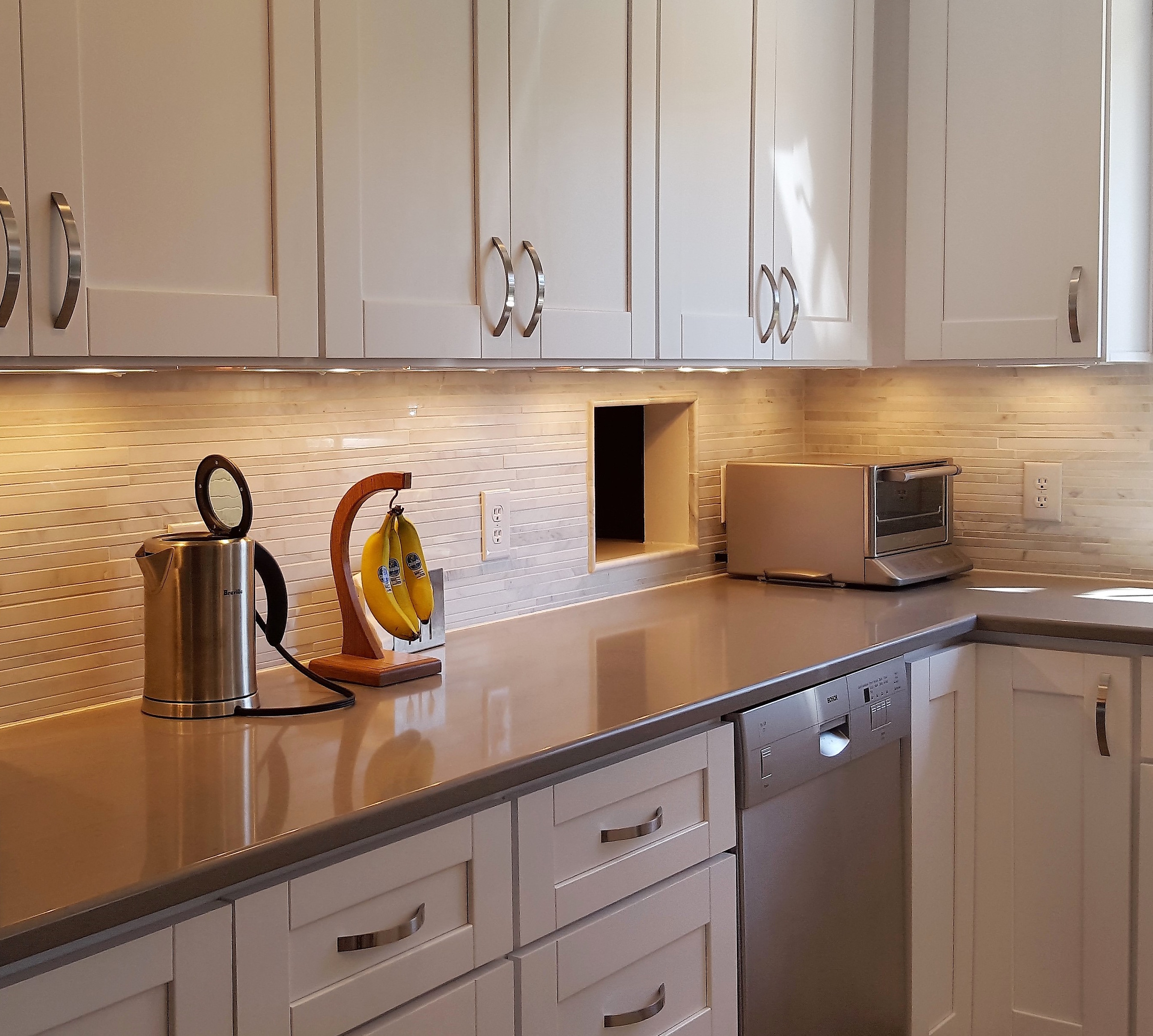 The backsplash is a gorgeous stacked marble that brings nice texture into the room, warming it up. There is even a cute pass-throughbetween the kitchen and living room that was part of the original kitchen.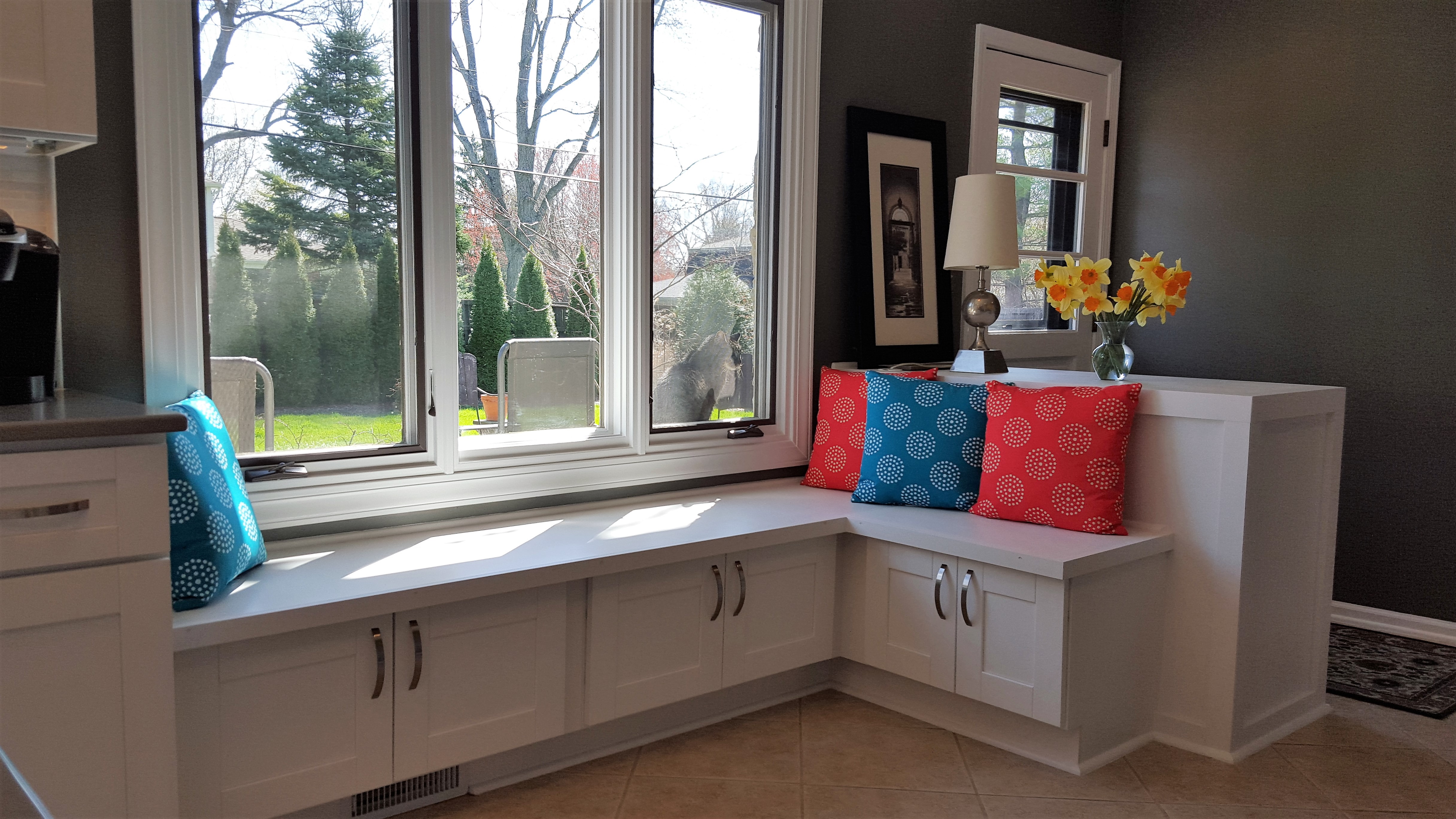 Check out this banquette that was added into the breakfast nook to create a cozy space for hanging out. With all the light cabinets, trim and tile, the dramatic wall color (SW Stormy Gray) fits perfectly and I love the punch of color with the throw pillows. Notice the credenza behind the banquette: take a peek behind it, and you will see that it doubles as a storage unit for pet supplies. What a fantastic use of space!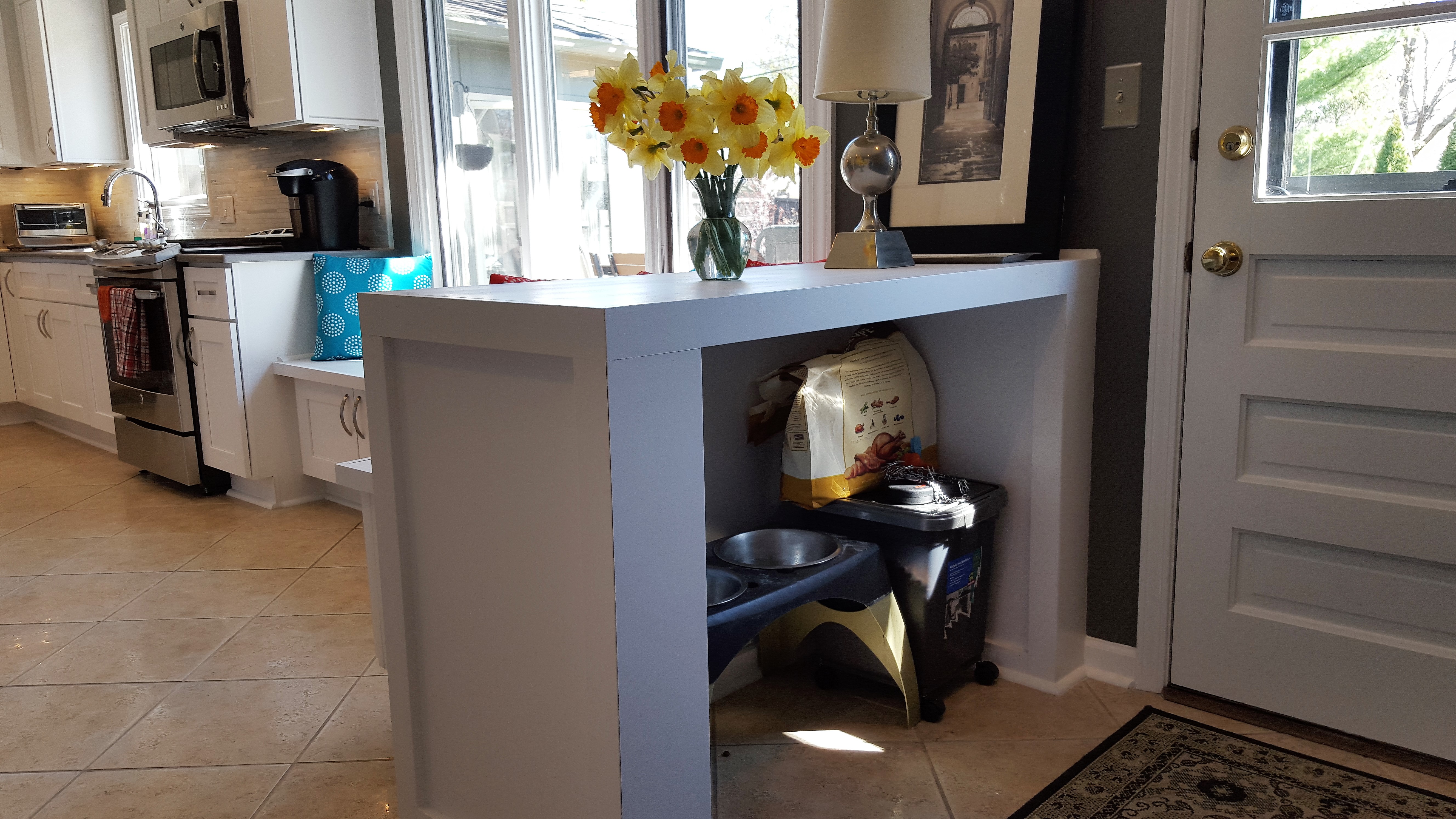 What you can't see in this picture is the wall that was removed to the left between the kitchen and the dining room. What once was simply a three foot wide door, barricading off one room to the other, turned into an open space between the two. I love the open feel this created for both rooms.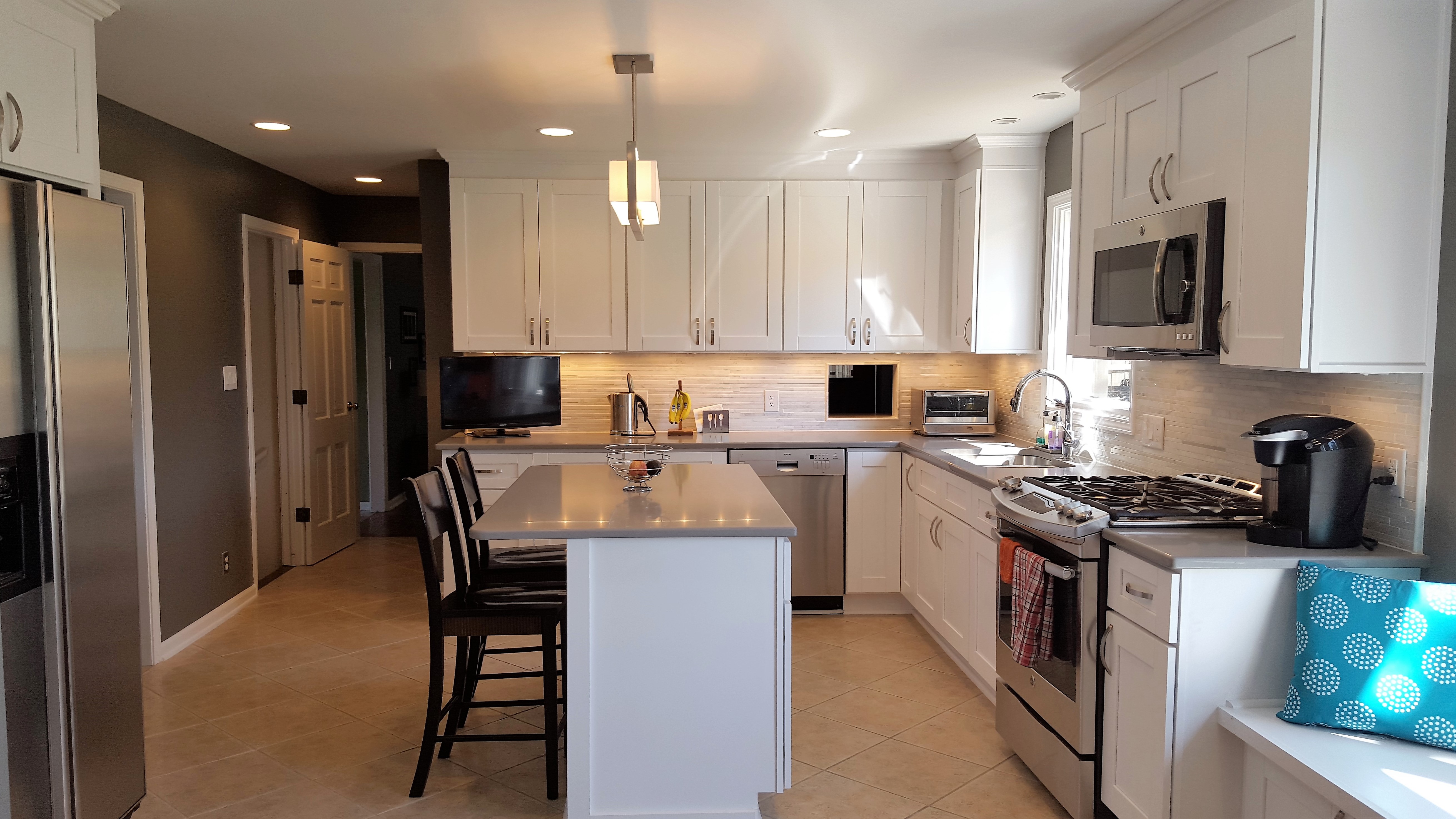 I say this all the time to clients and friends: Don't wait until it's time to sell to update your house. Keep it current while you live there and you'll thank yourself when it's time to move. Think about how a kitchen that is 3-8 years old looks compared to one that is 20-30 years old. A house that has been continually maintained and renovated throughout the years will sell so much faster and at top dollar – not to mention that you've gotten to enjoy those updates instead of spending money strictly for a new homeowner to enjoy.
If you're thinking about updating your house or don't know where to start, I offer free consultations to help you determine how to get the most bang for your buck. I can help you plan for the best resale – even if you're not moving for several years – and provide design guidance and contractor recommendations. Call me today to schedule your appointment.

Taking the first steps to selling your home.